Source – Space Weather News for Wednesday, Dec. 29, 2010: http://spaceweather.com
Got a telescope for Christmas? Point it at Saturn. A giant storm even brighter than Saturn's rings is raging through the planet's cloudtops. "I've never seen anything like this," says veteran planetary photographer Anthony Wesley. "It's possible that this is the biggest storm on Saturn in many decades." Here it is recorded by Wesley's 16-inch telescope on Dec. 22nd: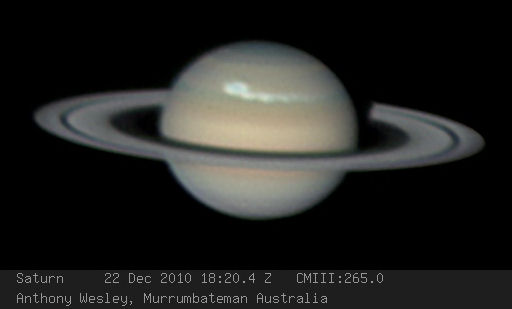 Instruments on NASA's Cassini spacecraft are picking up strong bursts of radio static. Apparently, lightning is being generated in multiple cells across the storm front. Cassini's cameras are also beaming back fantastic images of the tempest.
"At it's current size and brightness, the storm should be visible to anyone with a mid-size scope under steady seeing," continues Wesley. "This is a great time to be a planetary photographer."